Troubleshooting the Outlook Connector for Promotional Office
Please note this is a problem caused by the PC/ another bit of software, blocking  Promotional Office from sending documents directly to Outlook. This may affect one machine only or possibly the whole office, depending on how your machines are set up to install updates/group policies from Microsoft and so on.
This needs reviewing within your specific PC or company (local) platform. Grab the person that knows or have a go as follows:
Check if you running any of the following anti-virus programs:
ESET, F-Secure, any anti-virus marketed with "Bank-Level Security".
If these monitor your Outlook activity, the anti-virus programme will need to either be disabled/replaced or have 'exceptions' written in to prevent it from removing the Promotional Office Outlook connector.
This will need to be handled by your IT team or whoever set up, sold or installed your anti-virus platform for you.
We can easily see if the anti-virus is affecting the connection by temporarily disabling it and re-activating the outlook connector, from there we can test if the connector works.
Do this first:
Open your anti-virus program, find the settings or admin screen depending on your program and Account privileges.  Next select disable/temporary disable and restart Promotional Office and outlook, its recommended this is handled by your IT team or someone with advanced computer knowledge. Once your outlook restarts if you right-click and email or try to send one via promotional office it should now load an email.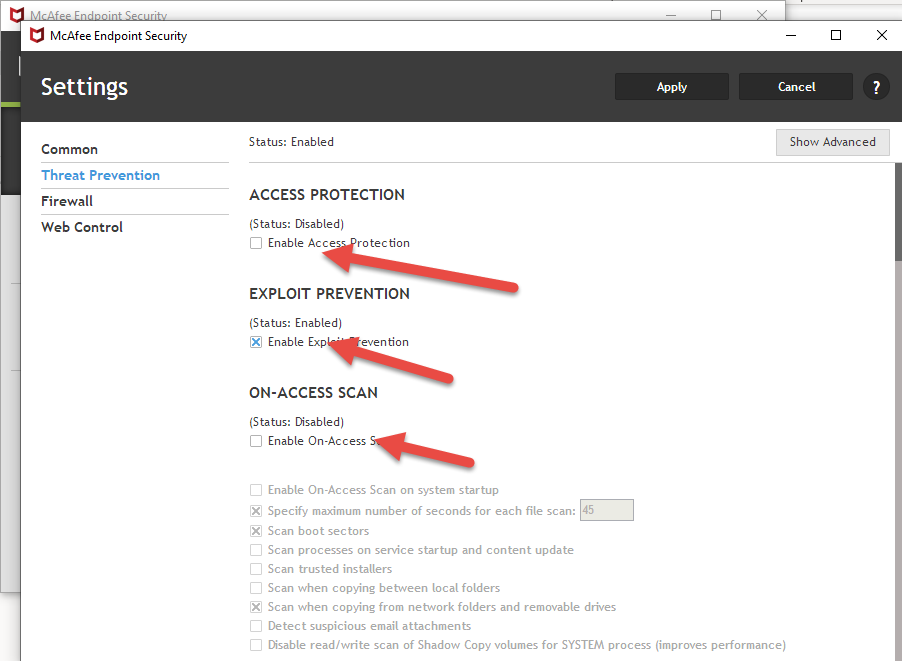 Another reason why the outlook connector may be automatically disabled would be due to a miss-match with versions of Outlook and Windows.
IT IS KEY THAT BOTH WINDOWS AND OUTLOOK ARE RUNNING THE LATEST UPDATES! FAILURE TO DO SO WILL RESULT IN THE PROGRAM BEING UNABLE TO UTILISE NEW FUNCTIONALITIES WITHIN THE SYSTEM AND POSSIBLY CAUSE ERRORS.
Are you on the latest version: Check and run updates as follows: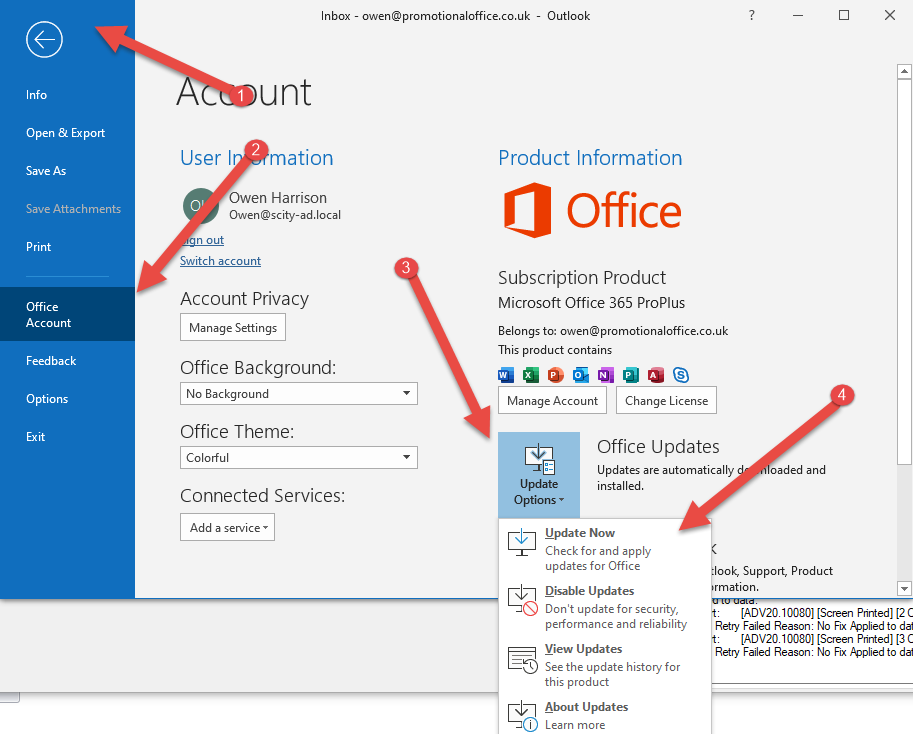 Within outlook press file at the top left
Select Office Account on the left hand side
Select Update Options
Within the dropdown select Update Now, this will automatically check outlook for any required updates.
With a new Outlook install check that you are using the 32-bit version as nearly all add-on programmes  (of which the Promotional Office Connector is one such thing) do not have compatibility with 64 bit. Microsoft is only now starting to develop tools and add-ins at 64 bit, so this will follow in the future. I've included an extract from the Microsoft Outlook forum detailing why the outlook add-ins are generally 32-bit:
"The main reason for the original recommendation was compatibility with existing add-ins for Office.
For an add-in to work with the 64-bit version of Office, it needs to be recompiled by the developer specifically for the 64-bit version of Office. In some cases the developer also needs to make some specific changes for 64-bit support or needs to wait for specific libraries, that the add-in relies on, to be recompiled for 64-bit."
Please find below details on how to check your current outlook version: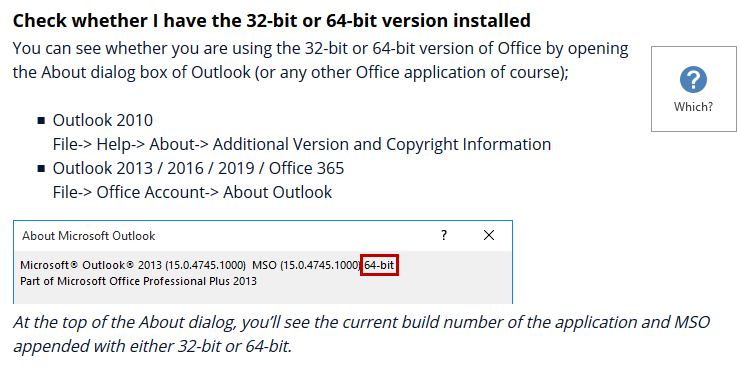 Below also details how to re-able the outlook connector if its bee de-activated or disabled by a third party tool.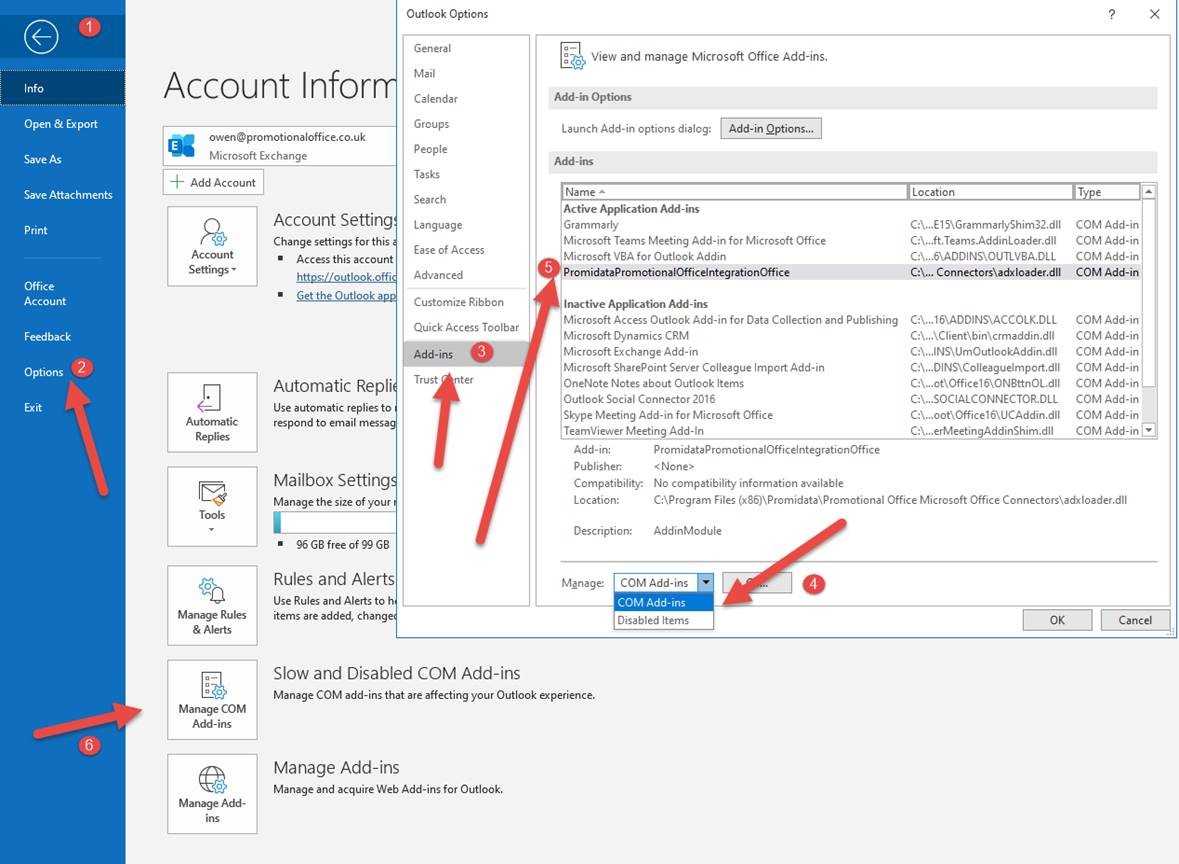 Press File and select Options on the left-hand side
This will load a settings box for outlook options
Press add-ins and look for PromidataPromotionalOfficeIntergrationOffice
If this add-in is in the Inactive section you'll need to select manage COM Add-ins and re-tick the options.
If it's marked as disabled you'll need to go to Disabled Items enable it and then go to COM add-ins and make sure it's active.
If your add-in doesn't display please make sure it's installed.
Hope this helps, if you require more information or guidance please let us know.