Show me what I need to know!
Business Visibility

Business Visibility.
Visibility is a key element in controlling a business process and should be to the fore, whether it's a manual process or a software solution.
Promidata, in Holland (The originators of Promotional Office and Code owners) is a software house, only developing IT solutions for the Promotional Merchandise Industry. Promotional Office is built for the industry from the ground up, it is not based on a framework programme like Microsoft Dynamics, SAP or Netsuite. It has been programmed from scratch over the past 10 years, using the latest certified tools available, and focussed solely on our industry and those very specific requirements.
Over-riding everything is the fact that 'Our trade is 'Sales' driven, Quoting is where most time is (and should be) spent to deliver those sales'. Quotes are the raw material. Generating neat, accurate and efficient Quotations is the emphasis and core principal of Promotional Office. The details and processes linked to preparing quotes are also where the subsequent efficiencies lie in the system. Some of them are outwardly inconsequential, but all are designed to minimise time whilst still maintaining integrity.
Across any company, the requirement at all levels is for easy access of information from which decisions can be actioned. Whether it's a top-level Company sales forecast, or a single order line delivery date status: the information needs to be easily available and relevant to the individual.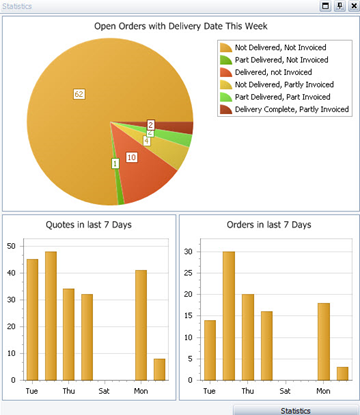 Working within the business
Promotional Office uses system wide colour coding for 'time critical' indicators for 'today', 'coming up' and 'overdue'. Using the built-in tools and the intuitive navigation flow within Promotional Office, the status of the four key stages of any business are presented in clear summary views for instant 'health' viability.
Customer Contact
Enquiries and Quotations
Orders in progress,
Invoiced Sales
Status colour coding in Promotional Office (Example shown: Order progress Overview)
Working On the business
Accessing the right metrics as a business manager, owner or investor are crucial for operational control and strategy planning.
Reports and Analysis – As standard, Promotional Office has a wealth of 'dynamic reporting' capabilities straight from the screen. Drag, drop and filter to compile results that suits the specific analysis required with further export functionality (for onward presentation) if required.
Sales Development (CRM), Pipeline Activity, Work in Progress, Supply Chain Management and Sales Results can all be interrogated for the specific data required.
A 'Statistics' Area in Promotional Office pulls a number of standard valuations together for instant reference:
Example Screen – Sales Measures for a four-week period.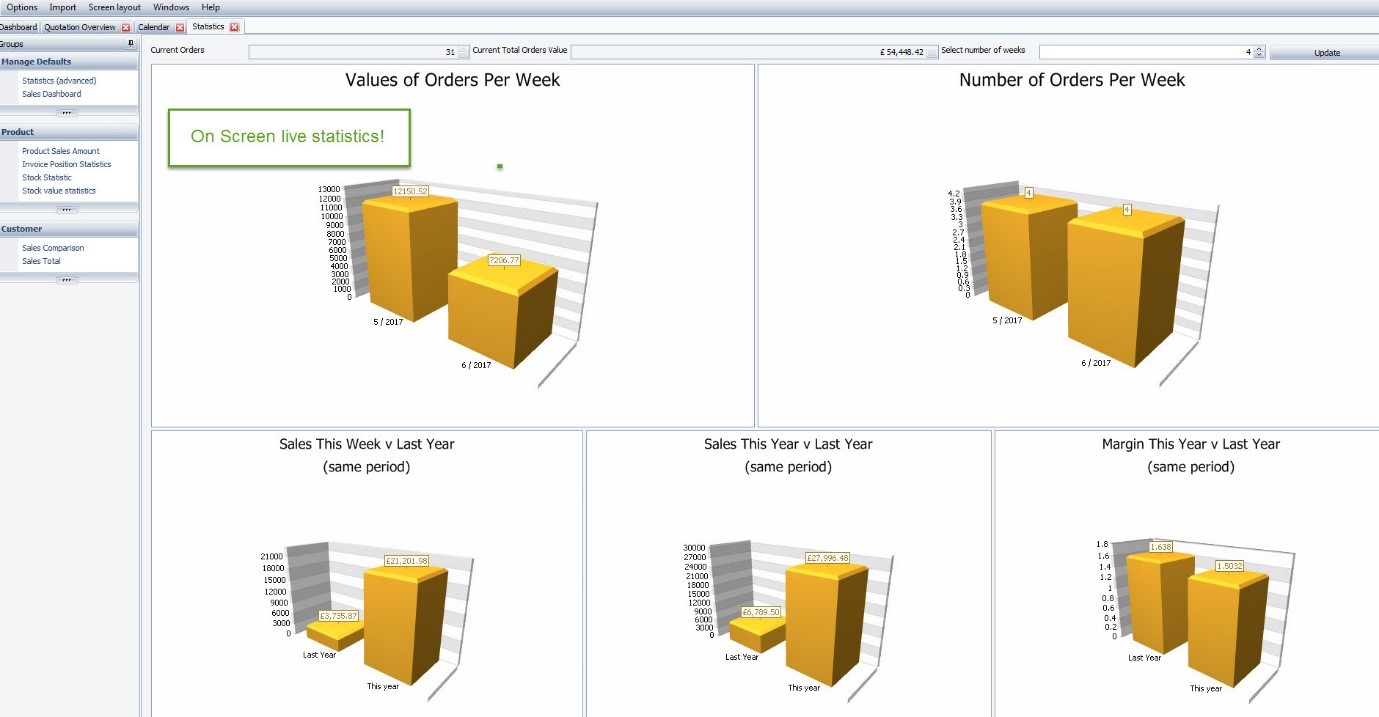 Custom Dashboard Screens
Promotional Office 'Custom Dashboards' provide top level summaries for key stakeholders or departments with clear 'result' visibility. The adage: 'What gets measured, gets done!' applies.
Screens featuring custom graphics for each user group make a compelling indicator of 'company health'.
Custom Dashboard (Example shown – Sales Activity)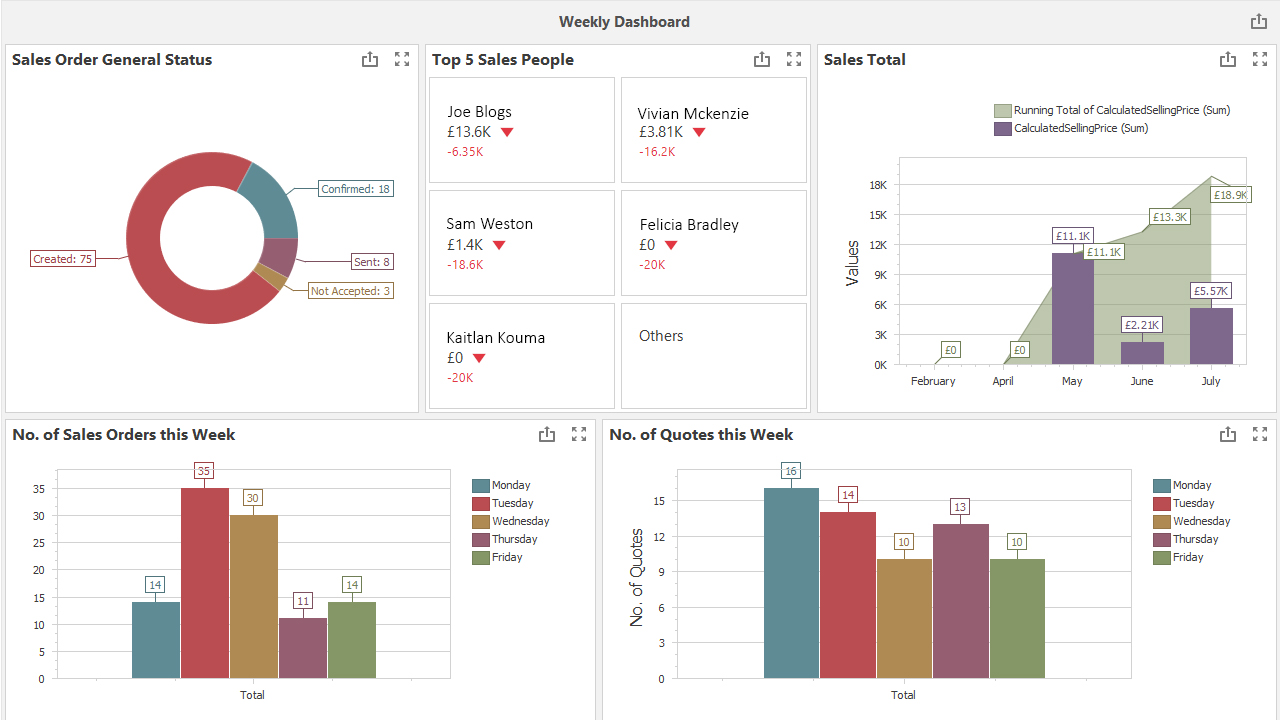 Call us at 01252 701092 or email support@promotionaloffice.co.uk
Software that really benefits your business.